Newsletter #9 Nov. 9, 2021 
Español? Por favor lea más abajo.
---
CHB Coffee for Caregivers: THIS Thursday, November 11 at drop off. Have a cup and a chat!
---
CHB FALL PARTY  — A NIGHT OUT
The PTA is hosting our CHB fall party.
Enjoy local beer and snacks at Montclair Brewery (Walnut St.)
Please note: While the brewery is kid friendly, we would love for caregivers to give yourselves a night off.
Details: Nov. 13, 2021 6-9pm
PIE SALE:
Support CHB 5th graders' 'Moving Up' festivities
Place your pie order by Wed., Nov. 17th
Pick up pies Nov. 23rd & Nov. 24th
Gluten-free & no sugar options available
Order DELICIOUS pies here.
Please consider donating a pie to CHB families in need.
Bullock continues its annual tradition of sharing Thanksgiving meals with our CHB community.
For a complete meal with all the fixings please complete this form no later than Nov. 11.
Meal pick up will be Nov. 23, 3-5pm
Any questions:
Contact CHB school counselor Lauren Gutierrez
lgutierrez@montclair.k12.nj.us
973-509-4255 x5756
---
Hey, do you have a favorite holiday recipe?
Share it with us and we'll send out a collection later this month:
vicepresidents@bullockpta.org 
---
Member Hub Update
Please remember to join your class hubs. This helps with parent communications. Thanks for your cooperation.
Join Watchung Booksellers and CHB parentauthor Jason Patterson for an in-store activity and book signing of the new children's graphic novel series Barb the Last Berzerker.
Sunday, November 14 at 2:00 p.m.
---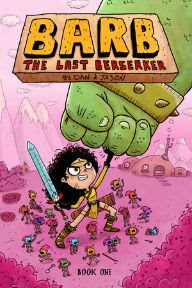 Thanks for your support CHB families!
Your CHB PTA crew
Kim, Jaime, Shira, Sandy, Devika and Kristine.
Reach out:
---
Traducción en español
Próximos eventos:
Cafe para cuidadores: 11 de noviembre durante las horas de entrada de los estudiantes.
Fiesta para cuidadores: 13 de noviembre 6:00pm-9:00pm, Montclair Brewery, calle Walnut.
Para recibir comida gratis de Thanksgiving/acción de gracias (un programa de CHB):  haga clic aquí para registrarse. Preguntas? Llame al Sra. Gutierrez.
Estamos buscando recetas navideñas! Compártelos con nosotros aquí(en español también).
Venta de pasteles para acción de gracias: ordene aqui!
PTA School Events Calendar
Google Calendar                       Outlook Calendar
How to Sync the Calendar to Your iPhone
How to Sync the Calendar to Your Android Phone
ICS Link
https://calendar.google.com/calendar/ical/bullockpta.org_2htevliua2gdcsb0805aks4is8%40group.calendar.google.com/public/basic.ics

The CHB PTA is an affiliate of the National
and New Jersey PTAs and is a nonprofit 501(c)(3) organization.