Newsletter #15         Dec. 22, 2021 
The PTA wishes our CHB 
families a peaceful holiday season and a gentle, healthy start to the New Year.
A special thank you to Acting Principal Brenda Coe who has worked tirelessly to keep CHB 
running during Principal Kuwabara's leave. We look forward to working with Ms. Coe and Principal Kuwabara in January.
---
Next PTA Meeting: January 18 at 8pm.
Join us to hear about (and get involved in) very important and exciting events we are planning for the rest of the year.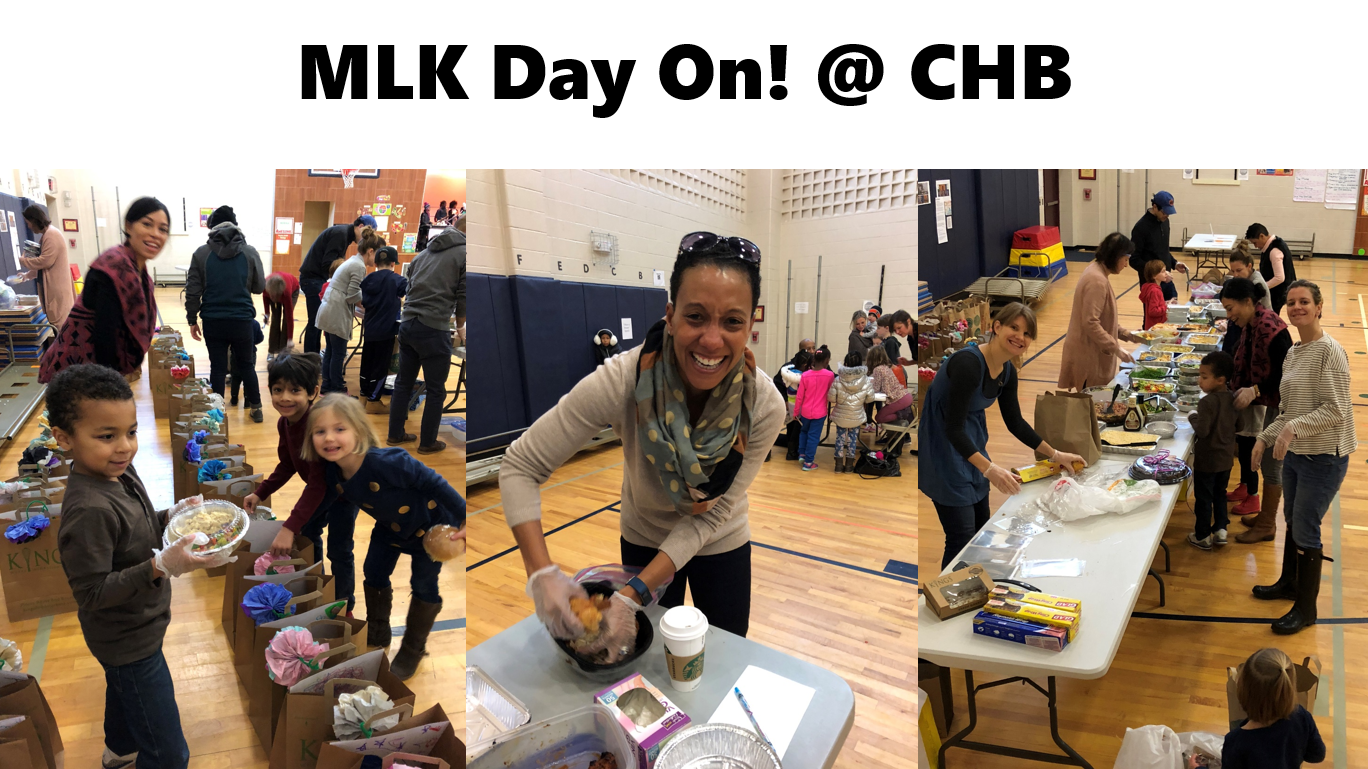 ---
CHB community:
As we close out the year and head to winter break, we wanted to reach out for volunteers for this year's MLK Day On celebration Jan 17th.
Every year, we honor Dr. King's legacy with a combination of learning for both students and their families, as well as acts of service for our community. This year's event will be coordinated by Monk Inyang. If you are interested in helping out in any way, big or small, please reach out to him here. a
Thank you for your support. We're looking forward to another incredible event next month!
Butter, Flour, Sugar + love = Cookies! 
---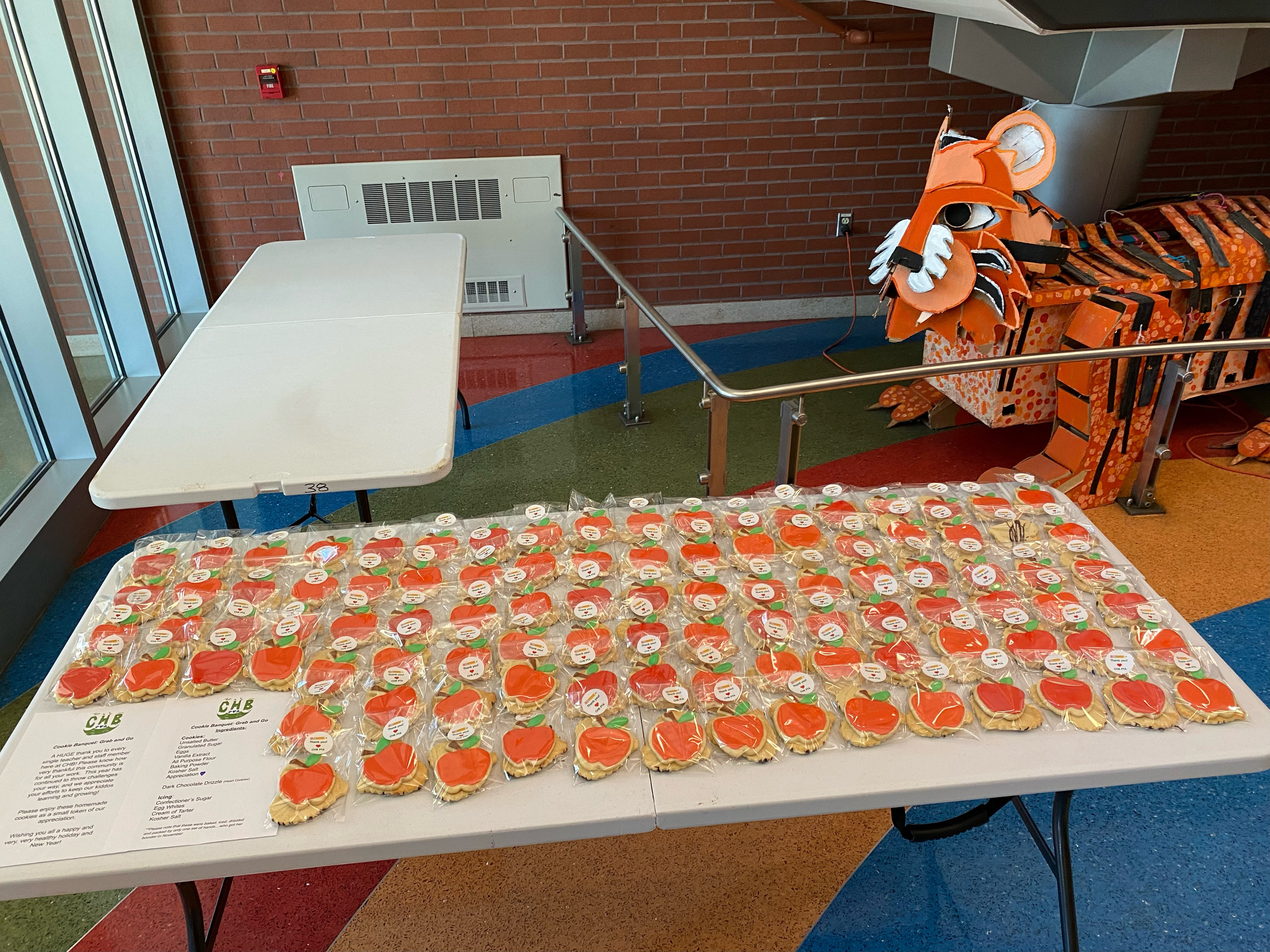 Thank you Courtney Baran Huber for whipping up A LOT of treats for our teachers. The cookies were in lieu of a traditional cookie banquet. We hope to bring that back next year or … who knows … maybe in the spring? Amazing work, Courtney. And thank you.
---
After School Enrichment
Message from the Bullock PTA After-School Enrichment (ASE) Committee:
The PTA ASE Committee will hold a 10-week after-school enrichment (ASE) program this winter at Bullock for children in all grades.
ASE will run from January 24th through March 30th(once a week on a Monday, Tuesday or Wednesday from 3:25 to 4:25 PM, on days when school is in session for a full day. Classes will be held inside, except for Fun with Running, which may be held outside (weather permitting) and all classes will follow COVID safety protocols, with instructors required to be fully vaccinated.
Registration opens on Sunday, January 9th at 8:00 PM via the online platform Homeroom and runs throughWednesday, January 12th at 11:59 PM. If you do not already have a Homeroom account, you can register here. This session we are offering 12 classes per week (4 classes per day) and classes will fill up quickly!
Full financial aid for one class per student is available for anyone who needs it. Please email Lauren Gutierrez for more information.
Please contact chbenrichment@gmail.com with any questions.
En español
La inscripción para el  invierno ASE comienza el domingo 9 de enero a las 8:00 p.m.
El Comité de ASE de la PTA llevará a cabo un programa de enriquecimiento después de la escuela (ASE) de  10 semanas este invierno en Bullock para niños de todos los grados. Las familias pueden inscribir a sus hijos en clases (que se reunirán semanalmente, justo al final del día escolar.) Las clases son sobre temas como magia, música, deportes, arte, ciencias (STEM) y más.
Las clases se llevarán a cabo del 24 de enero al 30th de marzo una vez a la semana los lunes, martes o miércoles de 3:25 a 4:25 p.m.; se llevarán a cabo los días en que la escuela está en sesión durante un día completo; las clases de recuperación se llevarán a cabo durante la semana del 4 de abril y 11 de abril. La mayoría de las clases se llevarán a cabo dentro de las aulas; si el clima lo permite, las clases de deportes se llevarán a cabo al aire libre. Todas las clases seguirán los protocolos de seguridad de COVID y se requiere que los instructores estén completamente vacunados.
 La inscripción se abre el 9 de enero a las 8:00 p.m. a través de la plataforma en línea Homeroom y se extiende hasta el 12 de enero a las 11:59 p.m. El programa se asigna por orden de llegada así que algunas clases pueden llenarse rápidamente.
La ayuda financiera completa para una clase por estudiante está disponible para cualquier persona que la necesite. Para obtener más información envíe un correo electrónico a Lauren Gutierrez.
Si habla español y necesita ayuda para registrarse, comuníquese con chbenrichment@gmail.com.
Si tiene alguna pregunta, comuníquese conchbenrichment@gmail.com.
Las clases se pueden ver aquí.
Si es la primera vez que usa Homeroom, primero registre al estudiante aquí.
Thanks for your support CHB families!
Your CHB PTA crew
Kim, Jaime, Shira, Devika and Kristine.
Reach out:
---
Si necesita esta traducción, envíenos un correo electrónico.
PTA School Events Calendar
Google Calendar                       Outlook Calendar
How to Sync the Calendar to Your iPhone
How to Sync the Calendar to Your Android Phone
ICS Link
https://calendar.google.com/calendar/ical/bullockpta.org_2htevliua2gdcsb0805aks4is8%40group.calendar.google.com/public/basic.ics

The CHB PTA is an affiliate of the National
and New Jersey PTAs and is a nonprofit 501(c)(3) organization.